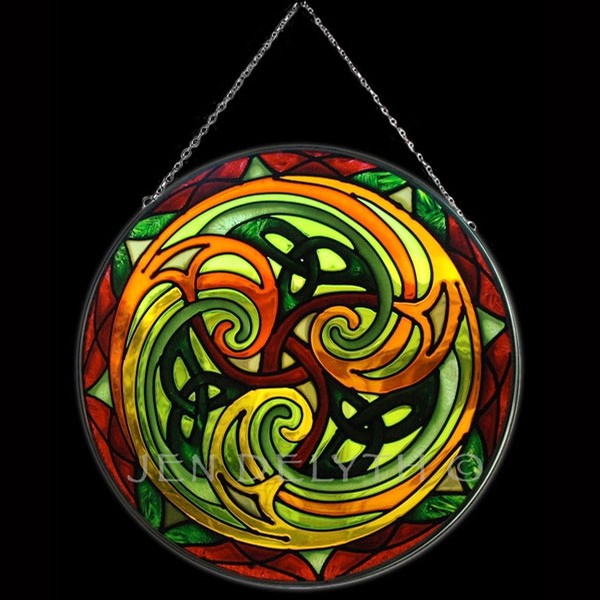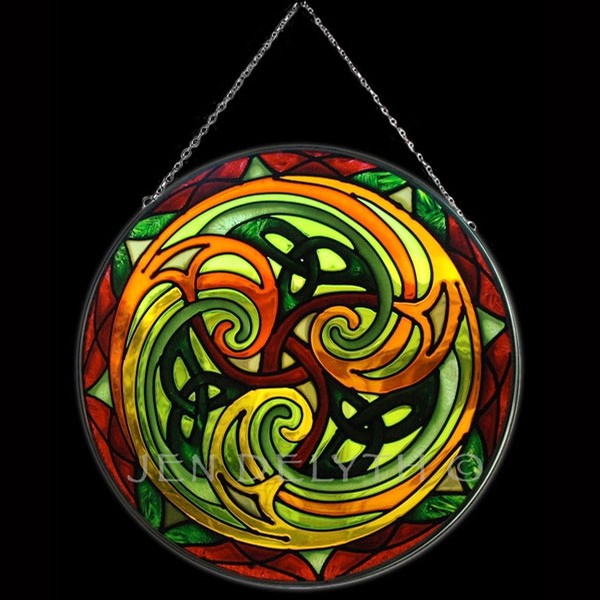 Keltic Designs Celtic Stained Glass (Triskel)
$0.00
Description
Celtic Stained Glass (Triskel). These beautiful Celtic Art Glass pieces with designs by Welsh Artist Jen Delyth are hand-painted. Using brilliantly colored crystalline, translucent, and frosted lacquers that capture the beauty of traditional stained glass at a fraction of the cost.
To care for piece: Use a damp soft cloth to remove dust and finger prints. Hang securely, don't use suction cups.
This 10 inch diameter zinc framed panel comes with attached chain for hanging.
The Triskele is a three-legged pattern, sacred to the Celts who used a triple cycle for the seasons, and for many magical patterns and ritual blessings. There are many examples of Triskel patterns on Pictish stones and in the Celtic manuscripts - the noble spirals of Aberlemno, Shandwick, Nigg, the Tara Brooch and the Ardagh Chalice, and later the intricate manuscripts, including the books of Durrow and Kells. Finely wrought metal and enamel works – such as the disc brooches dated around the second to fourth centuries - feature intricate variations of beautiful spiral and triskel patterns. In Brittany the Triskel is still widely present, a symbol of regeneration, it represents independence and autonomy and is worn for protection and good luck. This triskele symbolizes the rhythm of nature, each branch represents an element: water, earth and fire.
Original Design and Text by Jen Delyth ©2005