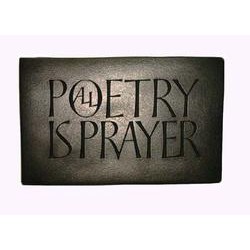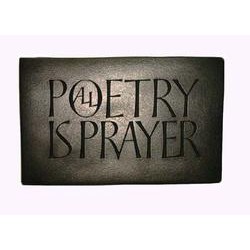 Wild Goose Studio All Poetry is Prayer
$78.00
Description
"All poetry is prayer" is a quotation from Samuel Beckett, Irish novelist, dramatist and poet. Arguably Ireland's greatest playwright, Beckett received the Nobel Prize for literature in 1969. Born in Foxrock, County Dublin and educated at Trinity College, Beckett spent many years abroad, mostly in Paris, where he developed a friendship with another well-known Irish author, James Joyce.

The design of this plaque is from an original carved inscription by Irish artist Thomas Little.

Approximately 7 3/4 inches wide, and 4 9/16 inches tall, and 3/8 inch thick. Plaque has a cord attached on the back for easy hanging.

Limited supply as this item has been discontinued by the Studio.

The Wild Goose Studio in Kinsale Co. Cork Ireland has been designing and making gifts to inspire the imagination since 1970. Together with leading Irish artists, it has created a unique range of artefacts which combine heritage with the contemporary Inspired by myths, legends and history, all our pieces are handmade by skilled craft- workers and finished in pure bronze or cast iron.