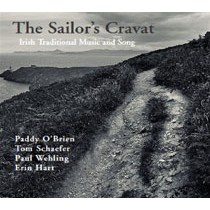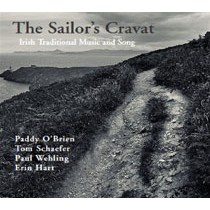 CD O-Z Paddy O'Brien, The Sailor's Cravat
$14.95
Description
Paddy O'Brien, The Sailors Cravat features Paddy O'Brien's button accordion and Tom Schaefer's fiddle blend together with lively intensity, underscored by Paul Wehling's tasteful backing on bouzouki. Some rare versions of tunes tie it all together, and are softened into submission by three wonderful songs from Erin.
Tracklist:
Reels: The Singing Kettle / Sean Ryan's

Jigs: Michael Coleman's / The Rose of Lough Gill

Reels: The Sailor's Cravat / The Maple Leaf

Song: The Flower of Magherally-o

Hornpipe: The Groves

Jigs: The Rambles of Kitty / Paddy Fahy's / Paddy Fahy's

Reels: The Humours of Tooma / The Wheels of the World

Polkas: The Peeler's Polka /Joe Bane's / Dick Tobin's

Song: The Generous Lover

Reels: Paddy Fahy's / Paddy Fahy's

Jigs: The Goat in the Garden / Sean Ryan's

Reels: McCollum's / The Gosling

Song: Molly Bawn or The Shooting of His Dear

Jigs: The Cat in the Corner / Paddy O'Brien's

Hornpipes: Murdoch Henderson / The Low Level

Reels: Bill McEvoy's / Paddy Fahy's

Reels: The Silver Spire /Sean Ryan's
.