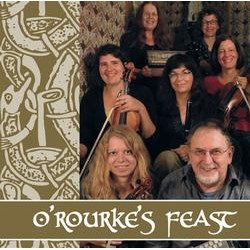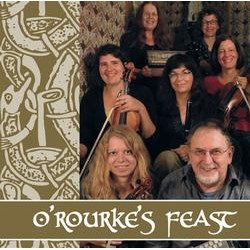 CD O-Z Paddy O'Brien, O'Rourke's Feast
$12.95
Description
Paddy O'Brien, O'Rourke's Feast is a lively seven-piece Irish traditional music ensemble, with repertoire that includes dance melodies like jigs and reels, but they also play older, sometimes long-neglected material from the Irish tradition, including hornpipes, clan marches, and some beautiful old slow airs and songs. The group also plays some original music, composed in traditional style. There is a long tradition of such folk ensembles in Ireland, including Ceoltoiri Chulann (forerunner of the Chieftains), and groups with whom Paddy O'Brien played years ago, Ceoltoiri Laighean and the Castle Ceili Band.
This notes on this CD includes detailed informaiton on each piece.

Featuring:
Kathleen Green, Ingrid Jans and Rosa Wells on fiddle; Suzanne Rhees and Amy Shaw on flute; Paddy O'Brien on button accordion; and Sherry Ladig on piano.