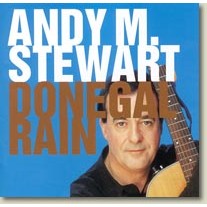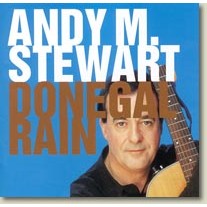 CD O-Z Andy M Stewart, Donegal Rain
$16.95
Description
Tracks and liner notes

Ramblin' Irishman
Trad. Arr: G. O'Beirne & A.M. Stewart
The first time I heard this song was back in the seventies, when the great Delores Keane sang it with De Dannan. I've loved it (and Delores' singing) ever since. It has a great "go" to it and is unusual amongst many emigration ballads for its emphasis on looking forward with hope to a new life in "Amerikay" rather than just looking back with sadness to what was left behind.
Matt Hyland
Trad. Arr: A. M. Stewart & G. O'Beirne
This old song has a very beautiful melody and lovely lyrics and, I believe, originates from the North of Ireland, although it was in the far North of Scotland where I first heard it many years ago.
Gallant Murray (Gathering of Athole) / The White Rose
Trad. Arr: G. O'Beirne & A.M. Stewart
The hero of this song was Lord George Murray, the fifth son of the first Duke of Athole (now spelled Atholl), who, along with his brother the marquis of Tullibardine, had taken part in the 1715 Jacobite uprising. Murray was wounded at the battle of Glenshiel in 1719, but managed to escape abroad where he served for some years as an officer in the Sardinian army. He eventually received a pardon and returned to Scotland. On Prince Charles Edward Stuart's arrival in Scotland, Lord George joined his standard at Perth in September, 1745. He was appointed as one of the Lieutenants-General of the rebel forces and acted as such at the battles of Prestonpans, Falkirk and the final and disastrous Culloden. He was pronounced as having committed high treason but again escaped abroad. He went to Paris in June 1747, but the "Young Pretender," in spite of all Murray had done and sacrificed for the cause, refused to see him. He then traveled to Rome where he was received with great ceremony by the "Old Pretender," Prince Charlie's father, who gave him rooms in his palace and introduced him to the Pope. He died on 11th October, 1760 at Medenblinck in Holland and left and excellent military memoir on the exploits of the insurgent army of "the Forty-Five." I love the spirit in this song and it is brilliant fun to sing live. A very small tribute to a brave man.
Queen Amangst The Heather
Trad. Arr: A. M. Stewart & G. O'Beirne
This was a song I remember from family ceilidhs when I was very young and it was a great favourite of my grandfather, Andy MacGregor from Perthshire. There are many songs in the tradition where two young people of different social classes are tragically attracted to each other, but in this song the young girl is far too smart to be really taken in by the blandishments of the rich young man. However, this doesn't prevent her from having a bit of a fling with him. The version of the song that I sing is from Perthshire, but my father, who was from Banffshire, sang a version which contained the lyric: "And the color of her petticoats were plain tae be seen, they were the colour of the bells of the carlin heather."
Tibbie Fowler O' The Glen
Trad. Arr: G. O'Beirne & A.M. Stewart
This humourous old ballad was first printed complete in Johnson's Scots Musical Museum in 1789. It was, however, popular much earlier, and a song in the Tea Table Miscellany of 1725 is directed to be sung "to the tune of Tibbie fowler 'o the Glen." I like the song, amongst other things, for it's unusual melody and good drive although the lyric does point to the fact that men are avaricious and largely irredeemable. "Tibbie" is the Scots diminutive for Isabella.
Reckless Affection
Words & music: A.M. Stewart
This is a tale of temptation, confusion and forbidden love.
The Irish Stranger
Trad. Arr: A. M. Stewart & G. O'Beirne
I came across this little gem of a song in Dublin in 1996, in an old collection. It highlights the struggle of the ordinary folk whose simple lifestyle and humble possessions, according to this song, still attracted the greedy attentions of the land-owning class. Evictions were commonplace in the 18th century in both Ireland and Scotland and many had to "take to the road," or sell themselves into bonded servitude for a period of years to pay for their passage to the Americas. In spite of its sad subject matter, the song somehow gives me the impression that its central character will go on and survive, however resignedly.
Mary And The Hielan' Sodger
Trad. Arr: A. M. Stewart & G. O'Beirne
Oh the glamour of a man in uniform! This is my version of this old song, but there are many others, with versions coming from Lucy Stewart from Aberdeenshire and a wonderful Irish version, called Mary and the Soldier, recorded by Paul Brady and Andy Irvine on their classic album from 1976.
The Banks Of Sweet Dundee
Trad. Arr: A. M. Stewart & G. O'Beirne
The city of Dundee lies in the county of Angus at the mouth of the River Tay in Scotland, about 19 miles from where I was born. However, I learned this song from the singing of the great Joe Heaney from Carna, Galway, in West Connemara, whom I first met by accident one Sunday in 1979 whilst taking a stroll in New York's Central Park! Joe was rightly recognised as a giant amongst traditional singers and is now sadly missed.
When You Took Your Love (From Me)
Words & music: A.M. Stewart
Two close friends of mine ended their relationship. As is often the case one seemed to be doing just fine, though I know for a fact that they were both hurting. This is from the point of view of one of them.
Donegal Rain
Lyrics: A.M. Stewart / Traditional
Music: A.M. Stewart / Kathy Stewart
Two lovers cruelly separated by political circumstances, but there is hope that love will win through in the end.